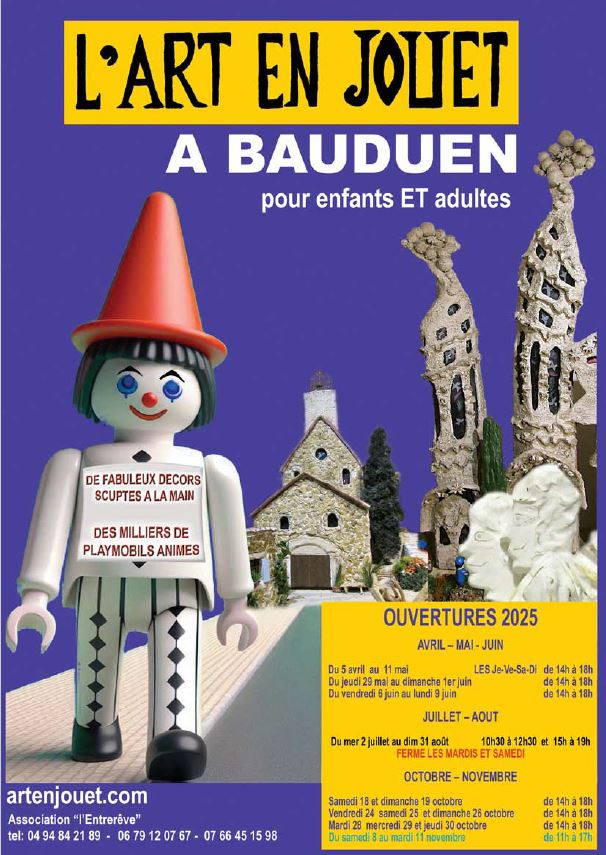 Fabulous settings, thousands of Playmobils, to combine life, art, history and creation. You will rediscover your child's soul by immersing yourself in fabulous scenery of animated scenes of thousands of Playmobil characters...
---
A thousand and one Playmobil, a thousand and one faces, for a thousand and one ways of crossing Art and life. One or two hours to live in a dream land.
A poetic, exceptional universe, unique in France. Three rooms, three gigantic fabulous and magical settings. Thousands of characters, props, buildings.
A well thought-out staging carried out over several years of work, after seven years of waiting and hoping. The reconstitution of forests, pastures, wheat fields, gardens..... The creation of an entire city, streets, squares..., A vast circus tent and the fantastic spectacle of its three tracks..., Vertiginous canyons, a river that flows and murmurs, a train that travels.... A particular lighting that restores the poetry of the day, the magic of the night. A lively, warm sound universe.
---
Prices
Full price: 3.50 €.

Free entry for children < 3 years.
Group rate available for > 12 people.

- Special rates based on number for school groups, communities, leisure centres, IMEs, etc. Please contact us for more information.